East Berlin, a Tourist Attraction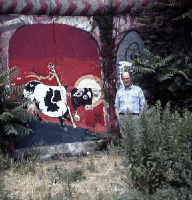 Author at the Wall, West side,
(Berlin-Kreuzberg) July '89
The European Holstein is marked
with a divided Germany
During the Wall era, one popular activity during a stay in West Berlin, was a one day trip to East Berlin. I took such a trip during my two week stay in Berlin in June of last year with an international teacher's group. We were taking part in a seminar sponsored by the Goethe Institute in Berlin. We went to Bahnhof Friederichstrasse on the S-Bahn, where we were funneled through a tightly controlled area with hundreds of other visitors.
Here we paid $23 DM, about $14 for the privilege of visiting East Berlin (and East Berlin only) for one day. A regulation that we had to be out by mid-night was made clear to us. We walked around the downtown area, over to Unter den Linden, the former grand avenue of pre-war Berlin and looked at the eastern elevation of the Brandenburg Gate.
Palast der Republik, June 1989

They have fixed the old things and given the center of their nation an image, a mixture of glass, Soviet realism and old Prussia.-- We headed over to the newly restored Nikolai Viertel, past a blend of restored monuments of Prussian splendor and new glass behemoths.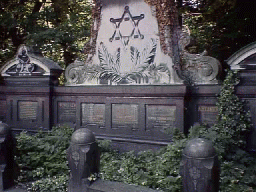 At Alexanderplatz, a large open space surrounded by exhibition halls and poorly stocked department stores, we took a streetcar to Weisensee, where we had lunch and then walked to the heavily wooded, extensive but poorly tended Jewish cemetery. Row after row of graves testified to the long presence of Jews in Berlin.
Jewish Cemetery, Berlin-Weissensee
Then we went on to the Prenzlauer Berg section of East Berlin,which in the 20s and 30s was a mainly Communist working-class district so fierce that landlords often had to collect the rent at the point of a revolver. For the Nazis, Berlin was the second reddest city in the world after Moscow and it was here that they met their toughest opposition.
---
Later, we went back downtown to catch the formal changing of the honor guard at the War Memorial to the Victims of Facism, neatly and frighteningly executed in perfect goose-step. Seeing these men in action makes it clear that the East Germany system was a blend of Prussianism, feudalism and socialism.

Changing of the Honor Guard
---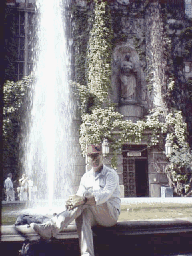 In the courtyard of the Humboldt University
Finally, we went to a few shops and saw that they had very little to offer. We stopped briefly at the Humboldt University, spent the last of our aluminum money, and then went back via the elevated train through a heavy-duty security checkpoint where our passports and faces were thoroughly scrutinized.

East Berlin was made a showcase for collecting hard Western currency. It is nicer than the rest of East Germany,and some of the money for its restoration and improvement was extracted from the other cities of East Germany. East Berliners were somewhat better off than other East Germans,and this is one key to understanding, what is going on there at the present moment.

---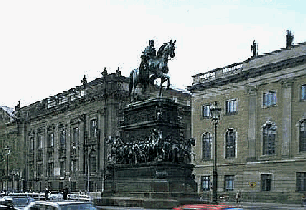 Unter den Linden, equestrian statute of Frederick the Great
Options:
For Student Exercises in English and German to Part 5 click here!

Proceed to 6. East Germany during theWall or, switch to another Part:

1. Berlin at the End of WWII--Top of document
2: The First Postwar Decade
3. The Raising of the Wall
4. West Berlin Thrives
5. East Berlin, a Tourist Attraction
7. Bringing down the Wall from Within
8. East meets West
9. East German Problems
10. The Road to Unification


11. Return to Index