N.B. This site is under construction, Summer '08
A Sketch of Hofmann Family background and history
Part I : Reaching back...Zell am Main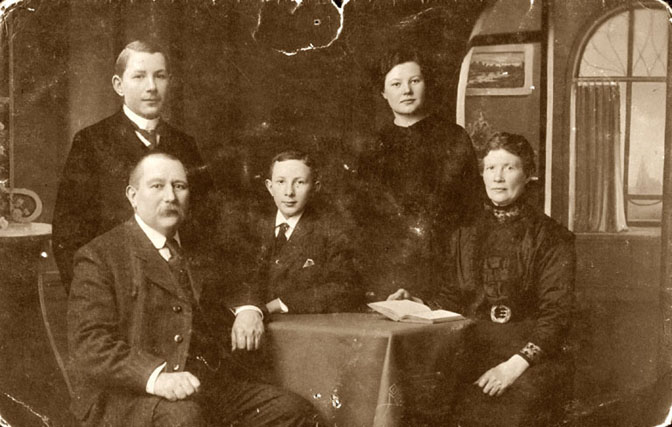 Hofmann family from a pre-WW I photograph. Seated left, Sebastian Hofmann; right, his wife Wilhelmine; standing, left, Nicholaus, who fell in WW I; seated center, Georg Hofmann, father of myself and my brother, George; standing right, Rosa, who eventually married Adolf Roehr of Zell am Main.
My father came from a place near Wuerzburg, (eng. Wurzburg) which is in northern Bavaria, a part called Franken, or Franconia in English. The little town was called Zell am Main. It was a Catholic Church oriented place, Zell referred to a monk's 'cell,' probably a small monastery. It was a Marktgemeinde, which means 'market community, ' so people went there from all over the area to do business. The little town was on the Main river, (rhymes with mine, more or less in German) and goods were traded there. Originally, it is likely that the town was a fishing village. This part of Germany was converted to Christianity by monks from England and Ireland. The name Killian, patron Saint of Wuerzburg was very popular here.

Image tableau of Zell am Main's current website
Originally, the family was from a community east of Wuerzburg, called Schernau. Au is a meadow near a stream in German: Schern, I learned somewhere along the line, came from a Slavic word for black, tsherny...so the name meant black-meadow. There have been archeological digs there and artifacts from neolithic times have been found near the stream. The family were peasant-farmers, attached to the land. I know only that my grandmother and my grandfather came from there, and I think I heard that both were illegitimate, which might have been significant in some ways in those days for the individuals. I am simply not sure.
My father's mother was named Wilhelmine. Her family came from Schmalkalden, a place in eastern Germany that I never visited. They were very poor. One story I overheard was that her family used to go out into the countryside to gather herbs and plants, things like horsetail, which were sold to polish pewter, since horsetail has a lot of silica in it. How and why her family came to Schernau, I do not know. I think that basic economics in the simple sense of making a living would have had something to do with it. She or her family and she probably came to the area to work at Gut Seligenstadt, a large agricultural estate belonging to the Catholic Church.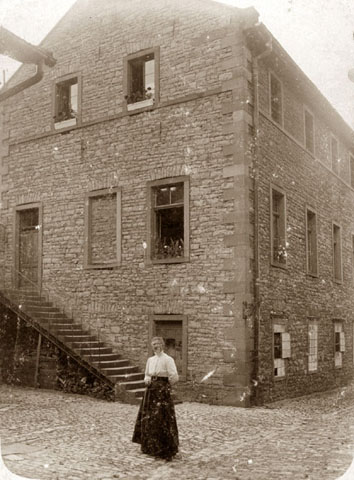 Wilhemine Hofmann in front building in Zell am Main.
The house was likely owned by the brewery, where my grandfather worked.

<! good point for the Wilhelmine pictures >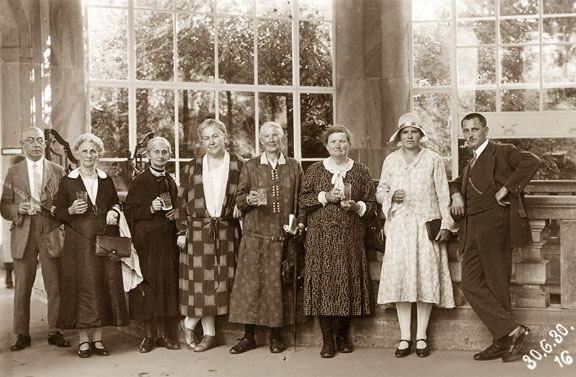 Wilhemine (center) at a Kurbad, a spa, where guests 'took the waters.'
Options:
Top of this page Part I: Reaching Back, Zell am Main

or proceed to Part II: Schernau, Zell, WWI

or proceed to Part III: Emigration to U.S.

or proceed to Part IV: Margarete Vogl

or return to Index