Part III: Emigration to the U.S.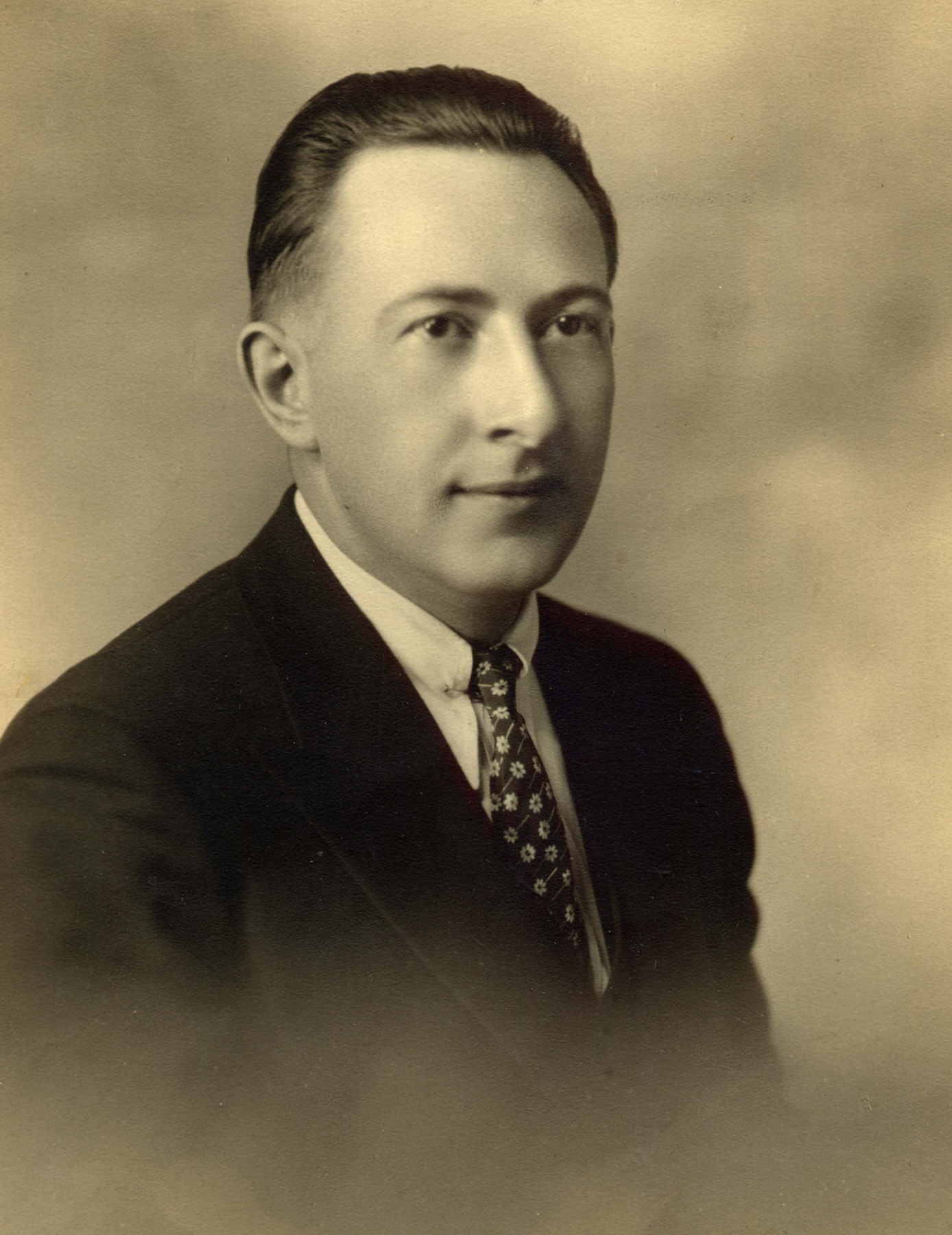 In this photo, my father looks like he might be in his early thirties.
After the war and his stint as a lineman, Georg was in Zell am Main again. There was a world wide depression, the low point for Germany being November of 1923. Things were growing more stable in Germany until the American depression began with the stock market crash of 1929. The expession - If America has a cold, the rest of the world has pneumonia - used to be well known. Many Germans emigrated during this period. There was discussion about emigration in the family, and which relative should immigrate. At times it was thought that Adolf Röhr, Rosa's husband, should be the one, but Georg was the one finally to go.
My brother, George, tells this story: After the lineman job he did work in a bakery in Garmisch-Partenkirchen (I believe there) and fell in love with Mirl, the daughter of the owner; and she with him. He was handsome, as you remember. Her father forbade the marriage - she was a Catholic, he a Protestant. This definitely was the love of his life. I met this woman, by chance, when I was in Germany in 1962, at Tante Rosa's; the bell rang, and it was she, on a surprise visit. (Still a very beautiful woman.) When she looked at me, she knew who I was... This might have been one more factor to leave for a new destination.
Uncle Killian, also from Schernau, the father of Kathryn and Bertha, was in New Jersey, just over the Hudson from Manhattan in Fairview. He worked in a ship yard. He sponsored my father, which might have meant paying his passage, or just vouching for him. My father worked in bakeries then, winding up at Dugan Brothers, a large factory-style bakery that delivered house to house in white delivery van trucks. In those days, milk and beer and drinks used to be delivered as well in those days. Doctors made house calls.
Dugan Brothers had factories in Connecticut, New York and Pennsylvania. My parents bought a house in Queens County in Bellerose. Before Bellerose, my parents lived in a rented house or apartment in Hollis. The Dugan Brothers plant was in Queens Village, close to the Long Island Railroad line. It was one of the largest facilities of its kind at that time. My father worked in the basement of the factory measuring out ingredients for large batches of bread. I worked with him one summer measuring out ingredients, when I was about seventeen or eighteen. Ingredients where brought upstairs on an elevator and put into mixers and loaf-formers and then went to a steam room to rise. From there, they went on racks that worked on an overhead trolley system to a station where they were put by hand into a gas oven.
GH. I knew that our grandmother Wilhelmine came from Schmalkalden in Thuringia, but didn't know the grandparents had both been in Schernau. It was a large estate, as you know, so if she was there, it probably was for the work. – The estate in question is Gut Seligenstadt, a large farm complex still in business, growing sugar beets, peas, rape seed for oil, etc. The estate has a website. It is still part of the Catholic Church's holdings, which controlled so much of the area in the past. The workers probably lived in Schernau. (GH) I don't know about our grandfather working on the estate - he might have been too young. And then, he moved, probably after marrying to Wurzburg, and then to Zell; I think our father was actually born in Wurzburg. I'll check on that.
Rumor had it, when I was in Germany, that our great-grandmother was a serving girl in the manor, and that her child, our grandfather was the illegitimate child of the Baron. Who knows? [Baron is a stretch. Illegitimacy is often glamorized after a generation or more. Probably common, it was, we can assume, not easy, socially or financially to live with that stigma. AH]
Two views of Gut Seligenstadt
Our father was in a French prisoner-of-war camp for a year, as far as I knew, after being wounded in France. [AH– I recall him telling me that he was in a hospital somewhere in Germany, as a matter of fact, in Berlin. It might be both France and Germany. He had scars on his arms and legs. All of this is foggy.]

Ninah might be interested in the genealogical material I sent you.
Options:
Return to the top of this page Part III: Emigration to U.S.

or proceed to Part IV: Margarete Vogl

or return to Part II Part II: Schernau, Zell, WW I

or return to Part I Part I: Reaching Back, Zell am Main

or return to Index