A Journey to Indian Country, October 2001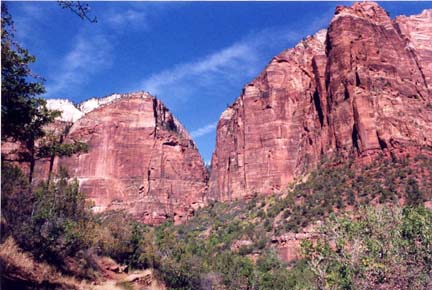 View from Emerald Springs Trail
Part 1: Santa Rosa to Zion in southern Utah
We returned from our extensive tour of the Four Corners region on October 27, 2001 at about 4:30 P.M. What follows is an account of a trip that covered about three thousand miles and took as many weeks, a trip that began as a desire to experience the landscapes of the southwest, which led to an exploration of Indian ruins and finally to a look at the pottery of the region.
On Monday morning, October 8th, we set out from Santa Rosa, driving to Oakland and Stockton to Interstate 5, which took us south to not overly scenic Bakersfield and Barstow (10/8), where we stayed in a motel on Historic 66. The next day, we soujourned to fantasy-land Las Vegas, -where, after various detours through the downtown glitz-strip and a sudden unexpected detour into condo-land- we had a pastrami sandwich at a local deli, and thus fortified, proceeded to Zion National Park, where we arrived in the late afternoon of October 9. We inquired about camping, and were assigned a site at the campground near the visitors' center.
| | |
| --- | --- |
| | |
| Court of the Patriarchs | Candace on the trail |
We stayed there for two nights and found it very pleasant. During the day, we hiked and photographed amid the astounding red cliffs and rocks. Our favorite moments were the Emerald Springs and Temple of Shinawava hikes, the latter into an ever narrowing canyon of the Virgin River. I spotted an American Dipper and we watched it for some time, the bird oblivious to the numerous hikers and they to it.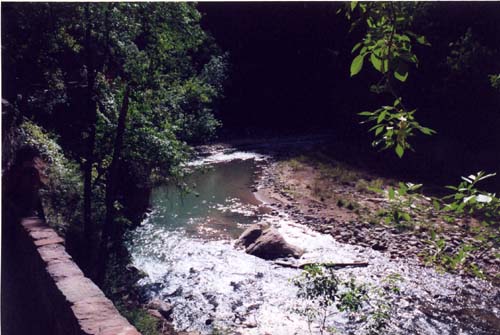 Virgin River in Zion

Proceed to Part 2. Grand Canyon North
or to
Top of current page Part 1: Santa Rosa to Zion
Part 3: Navajo National Monument and Monument Valley
Part 4: Hovenweep and Mesa Verde
Part 5: Aztec Ruins and Chaco Canyon
Part 6: Taos and Santa Fé
Part 7: Canyon de Chelley and the Hopi Mesas
Part 8: Homolovi and the Painted Desert
Part 9: Flagstaff, Sedona
Part 10: Wupatki, Grand Canyon South, Return to Santa Rosa

(E-mail to Art or Candace)