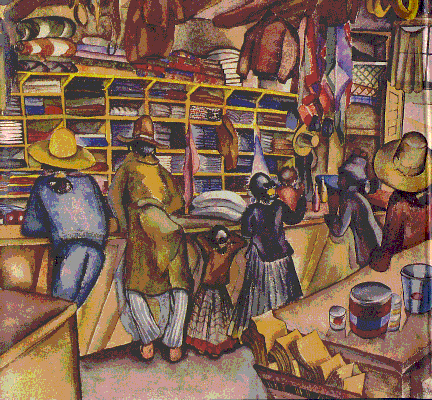 Hubbell's Trading Post in the old days
Part 7: Canyon de Chelley and the Hopi Mesas
So, on Saturday, (10/20) close to noon, we headed out of Santa Fé' and drove to Albuquerque, where we stopped for a brief gander at Old Town. We had a nice hamburger stuffed with green chilies at one of the restaurants there, a place complete with a Mariachi conjunto that could really belt out lively tunes. Along the way on Route 40, we got off to stop at a series of little stands set up just over a wire fence, where local Acoma and Laguna Indians were selling their pottery. We bought a few pieces, having refurbished our cash supply in Albuquerque. Our destination was Gallup, which we reached late in the afternoon, just before Richardson's the great purveyor of Indian jewelry, old pawn, blankets, saddles, kachinas, etc. etc. etc., closed up. We had a look around and were glad that they would be closed the next day.
On Sunday, (10/21) after another night in a motel drove across another state line into Arizona at Window Rock, and headed down the road to Hubbell's Trading Post, where we stopped and looked. I had read Edward T. Hall's book, East of the Thirties, about his time as a young man on the Navajo and Hopi reservations, when he worked for a government agency that was creating water cachement ponds for livestock in the area. The cover features a painting of the inside of Hubbell's trading post. It shows some Navajo women leaning on the high counters, looking at wares, bringing in their rugs to barter for goods. Hubbell's is of course, the classic trading post, right on the Navajo Reservation. It still has the great high counters and old floors that screech and creak with every step, still functions as a store, but more in a museum kind of way than as a viable economic entity. Hubbell's is located in a nice spot with some old trees, a corral, a picnic table or two, along with another small building that houses a little info center. We bought a book there, -- indeed, we bought books at lots of places along the way, about pottery, about the Navajos, about the Hopi, and on and on. Too many books, as usual. Also, as usual, we were tempted by the ever present jewelry, and the marvelous rugs, stacked high in piles in a room of their own, but the price tags were astronomical. Beyond that there is lots of the paraphernalia of yesteryear adorning the walls and shelves and corners, making it a wonderfully atmospheric spot that makes a real connection with the area's history.
After stopping at Hubbell's we steamed northwards to Canyon de Chelly, a Navajo stronghold, where we set up our trusty tent and began our tour of the viewpoints along its rim. We arrived there in the early afternoon. As we set up, suddenly a rez dog turned up, begging for food. he was small, and young, a bit too long in the body, light colored, a mix of about seven different breeds, quite intelligent, very cute and hard to resist. We had seen lots of dogs on many different parts of the reservation. So we shared the remains of the previous night's dinner, some Mu Shu Chicken from a restaurant in Gallup, with Rez, the reservation dog. He enjoyed it, and asked for more, which he got. His fellow dogs turned up shortly afterwards, but by that time, we were headed out towards the sights of the Canyon. The next morning, he wasn't around, which we found odd. We asked a woman in a campsite near our own, where he was, and she told us that someone had taken him home, simply adopted him. She said that her own dog, a white mongrel with a long tail, had come from this campground some years ago, and that people would do that, simply invite the dog into their car and drive off with him. This practice was definitely not a problem, since there was undoubtedly an unending supply of such dogs. - We were pleased that Rez had found a new home.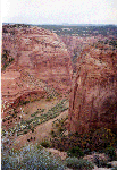 Our first views of the canyon were from the South Rim first. We followed the road and got off at viewpoints and hiked the short trails, looking down into an astonishing chasm of red stone at the bottom of which there were many trees, traces of a stream, and in the broader spots, small houses and farms. The Navajo live and farm this place, which makes de Chelly not just a geological attraction, but a special place that has a long history of habitation from the pre-Pueblo Anasazi period to the present. We felt a lot of admiration for the folks who were still living, tilling their small farms and tending their little orchards down in the Canyon. Their existence is marginal to say the least, but they persist because it is their way, and want to live that way. -- We did not hire a Navajo guide, hike down into the Canyon, or hire a four-wheeler with a guide as is recommended in the guidebooks, but contented ourselves with driving and hiking the trails along the rim.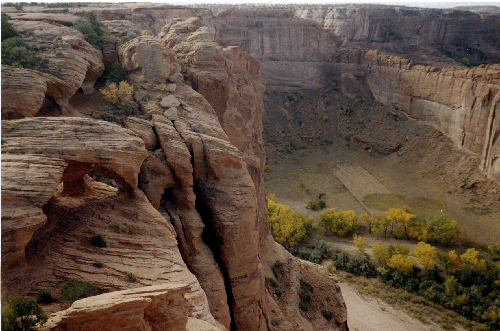 At the final viewpoint of the south rim, some girls -there were three of them - from the Czech Republic asked me to take a photo of them. I obliged. They left, while we stayed a few minutes more. On the way out to the main road, we noticed a crash scene, and a dead deer, a large animal, off to the left side of the road. Feeling very much that it could easily have been we who might have had this misfortune, we continued, and then suddenly noticed the girls' vehicle in front of us. They had hit the deer. Their radiator was disabled, and sending out vapors and smoke. We stopped and told them we would go to the visitors' center and get them some help. On the way down to the center, we noticed a police van headed quickly up the canyon. It was ten miles plus to the center, and when we arrived there, it was closed, so we went to the nearby lodge and reported the matter to the receptionists there, who telephoned, and told us that residents, one of the Navajo who live on the rim, had already reported the incident.-- Many Navajo seem to have cell phones and make use of them in this area where there are no phone lines.
The next day (10/22) we drove the north rim of Canyon de Chelly, walked trails again to viewpoints, where we stopped and bought some petrified wood from Indian men, who had retrieved it from the Canyon below. -- Around noon, we headed southward again, and then westward to Keams Canyon and the Hopi mesas.
We were disappointed at the Hopi Cultural Center on Second Mesa. The little, mainly old photo oriented museum was all right, but there was only one woman there, who seemed quite distant and uninterested in our presence. On the counter was a pile of the traditional blue cornmeal piki bread. -- Mainly, the few hours we spent in this area were impressive for our glimpses of the little villages themselves with their dirt roads and adobe and cinder block houses, the little outdoor ovens in the yards for baking their traditional stews, and the landscape, - again - enormous, circular in its expanse, vast, straight to the horizon, small trees, like juniper and pinyon, some sage, a light colored, yellow- white- tan landscape dotted with green, clouds overhead, getting darker at times, wind and wind-blown clouds over the whole sky, and the great fingers of mesas, representing the tumbling end points of the enormous Colorado plateau. The Hopi seem to have turned inward on themselves, not surprising after all they have been through in the past.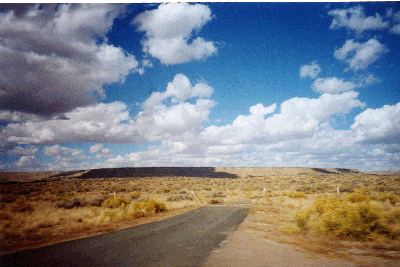 Second Mesa
Proceed to Part 8: Homolovi and the Painted Desert
or to
Part 1: Santa Rosa to Zion
Part 2. Grand Canyon North
Part 3: Navajo National Monument and Monument Valley
Part 4: Hovenweep and Mesa Verde
Part 5: Aztec Ruins and Chaco Canyon
Part 6: Taos and Santa Fé
Top of this page Part 7: Canyon de Chelley and the Hopi Mesas
Part 9: Flagstaff, Sedona
Part 10: Wupatki, Grand Canyon South, Return to Santa Rosa

(E-mail to Art or Candace)